Please help us welcome Ms. Reid! Hello Wrangler Community! I am Alanna Reid and I will be one of the new math teachers for the 2019-2020 school year. I graduated from the University of Wyoming with my Bachelor's degree in Secondary Mathematics Education in May of this year. I am excited to have my own classroom and learn from the staff, students, and community in Shoshoni.

Good morning Wrangler Fans, I'm attaching the most recent version of the sports schedules. I have updated the school's Google Calendar. There have been 4 modifications: JH FB @ Thermopolis on August 30th will start at 2pm (not 3pm) Added Y girls basketball @ Lander on Monday, October 28th at 4/5pm Added Y boys basketball vs Lander on Monday, February 3 at 4:30/5:30pm Added HS WR Duel @ Lovell on February 7 at 6pm. HS WR is scheduled to duel @ Rocky Mountain at 2pm and will just extend their stay on the Montana border to take on Tongue River and Lovell. I'll send more updates as they happen! Mr. Mills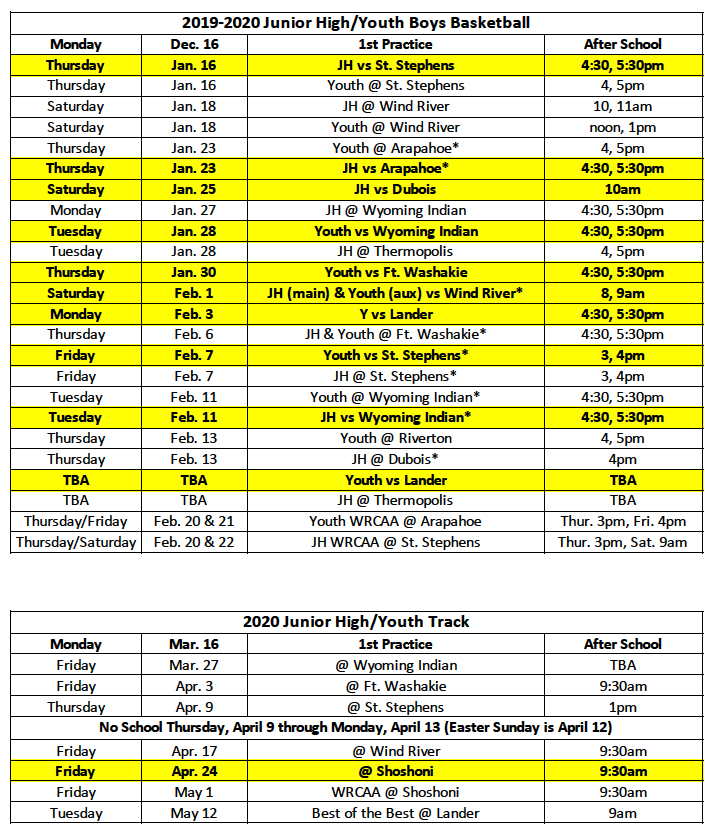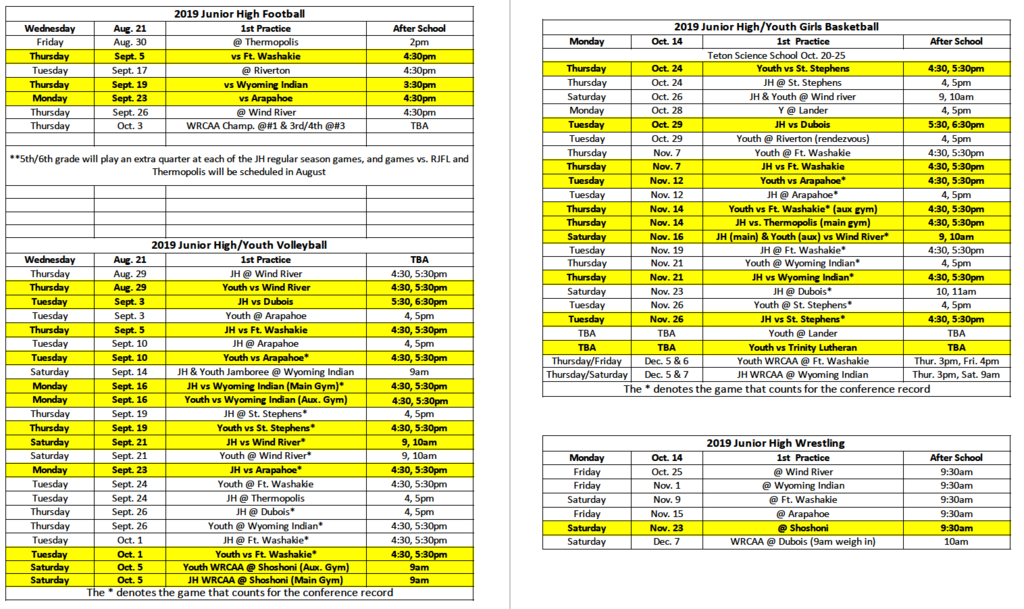 Please help us welcome Mrs. Marshall! Hello Wranglers! My name is Tami Marshall and I'll be starting this year as an Elementary Special Education Paraprofessional. I have been a resident of Fremont County my entire life and I couldn't be more excited to join such an amazing team that works so hard for the benefit of the students! The past 3 years I have been a substitute on the elementary side and it convinced me I wanted to be full time. I have two beautiful daughters that both attend Shoshoni Elementary, and 3 stepsons that have all graduated and are on to their adult lives. I was raised on a Hereford cattle ranch in Lander and my family still has a small herd. I love animals and spending time as a family outside, we LOVE boating, fishing, and camping. I cannot wait for the school year to begin and get to know all of our students, and to work with them every day! Thank you for welcoming me into your community, have an amazing year!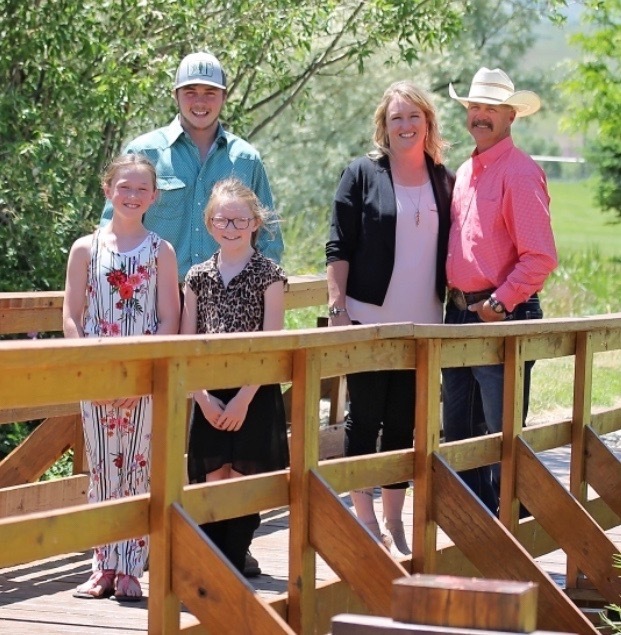 We would like to introduce Mr. Sova to you and a little information from him! Greetings, I am excited to join School Dist. #24 and am looking forward to meeting parents and staff and working with a number of students at Shoshoni Middle and High Schools. I will be teaching 7th -12th Grade Special Education as well as coaching Varsity Boys' Basketball. I will be beginning my 35th year of teaching and coaching. I served Big Horn School District #4 in Basin, WY for 24 years and have also worked at Rock Springs, Thermopolis, and Missoula, MT. I hope to make a difference with Shoshoni schools and am excited to help kids become the best that they can be. I received my B.S. Degree from MSU-Billings and in 2000 completed my Master's Degree with a focus on Curriculum and Instruction as well as Learning Disabilities. My wife Sherry also works in the education field and is totally committed to helping students achieve. Please stop in and say hi when you get a chance! Go Wranglers!

HSFB practice will start at 3 PM on Monday 8/19 and Tuesday 8/20.There will be a 45 min-1 hour break and will practice until 9 PM. Wednesday 8/21-Friday 8/23 practice will be over at 7:30 PM

There will be a fall sports parent meeting during open house on August 20, 2019 at 6PM in the Commons.

Message from Mr. Weber: Junior High Football Checkout Monday August 19th 4-7 PM Tuesday August 20th 4-5 PM & 7-8 PM Parent Information from Mrs. Lesa!

Don't miss any updates from Shoshoni Schools! YOU decide which areas you would like to receive notifications about.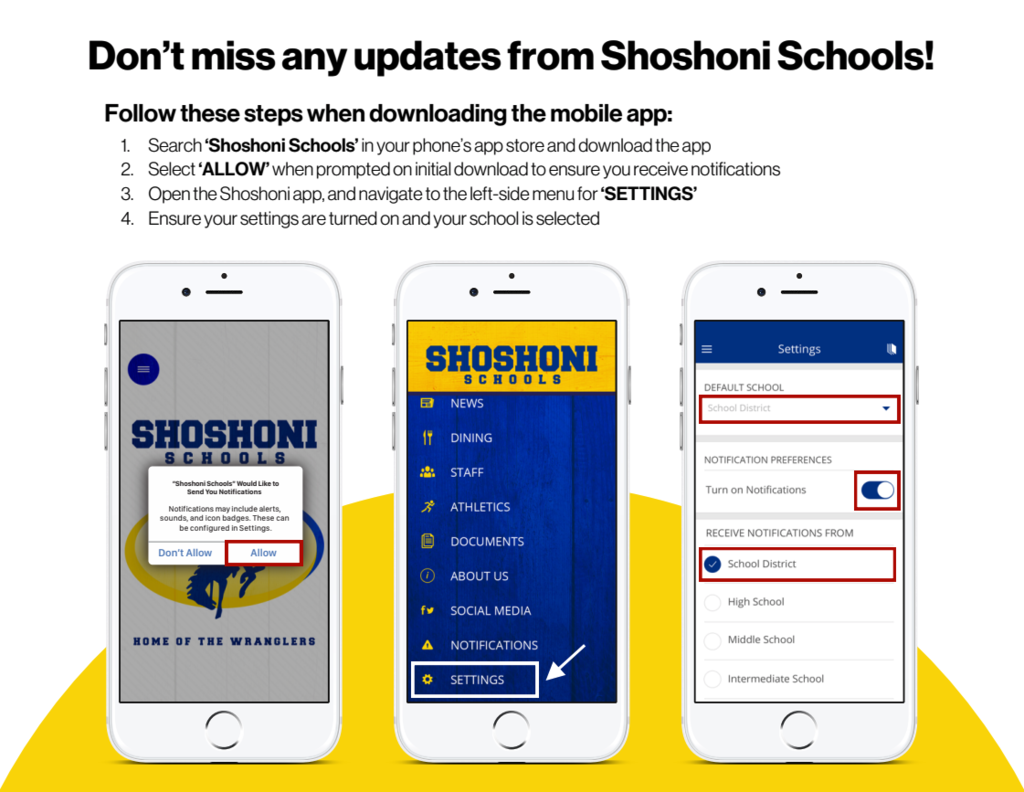 August 12th at 6 PM The Town, Shoshoni School, WYDOT, and HDR Engineering will hold a public information meeting/open house to inform the public of the Shoshoni Sidewalk Improvement Project and the proposed signage, crosswalk, school zone, and Safe Route sidewalk improvements.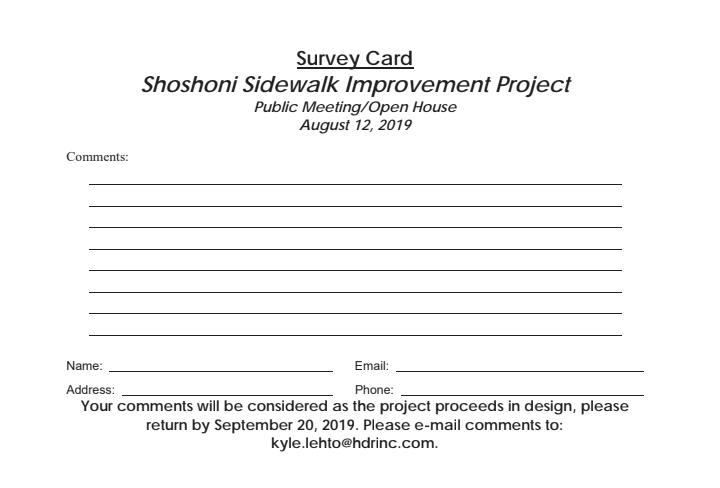 Congratulations to the beef showmen from Shoshoni today!! FFA and Senior 4H Champion Chase Taylor, Megan Harris Champion Intermediate and Trai Lopez Reserve Intermediate 4H and 3rd in FFA, Ryker Crimm Champion Junior and Irelyn Campbell Reserve Junior Showman!! Arie Michelena showing her lamb in FFA showmanship made the final cut.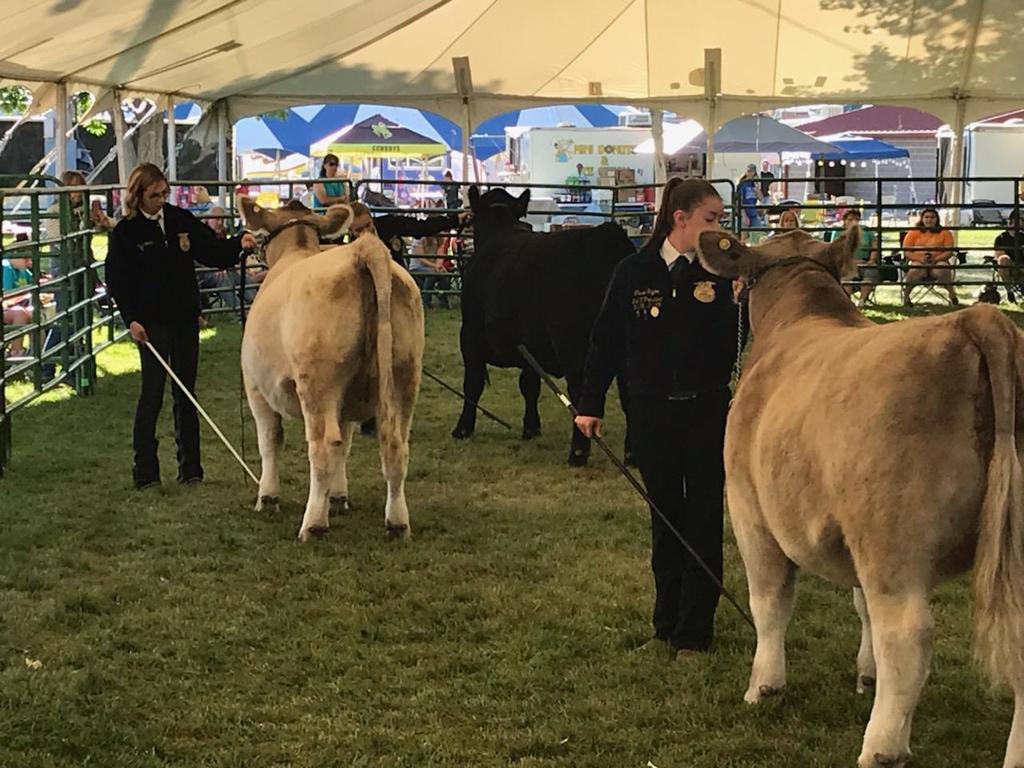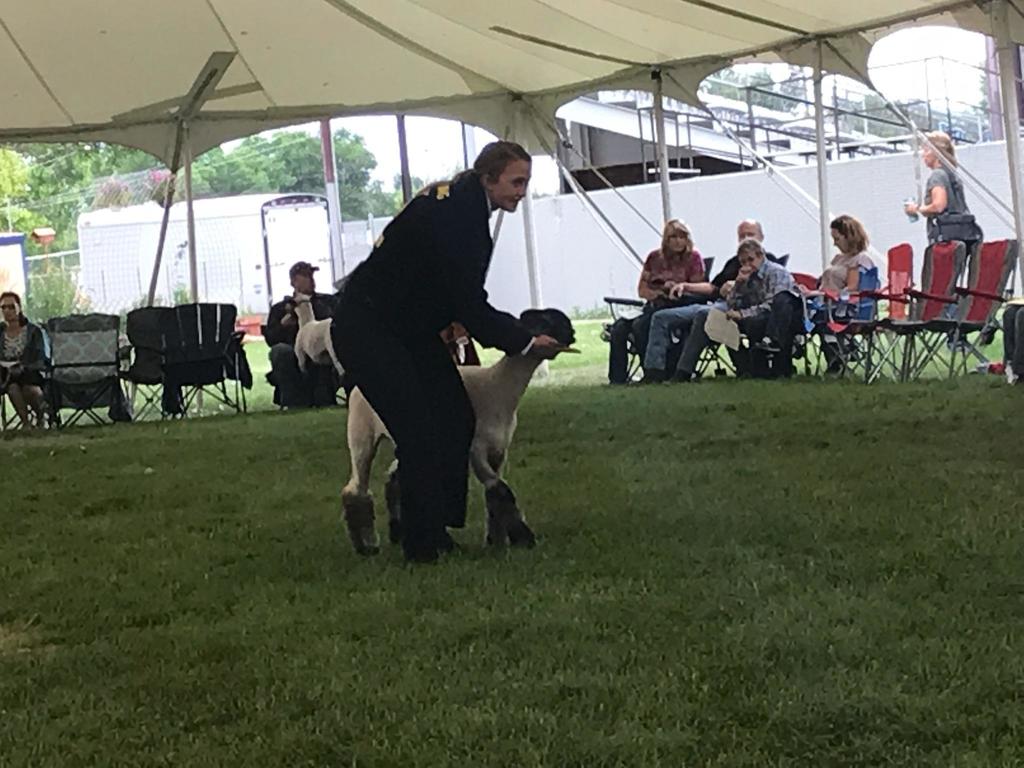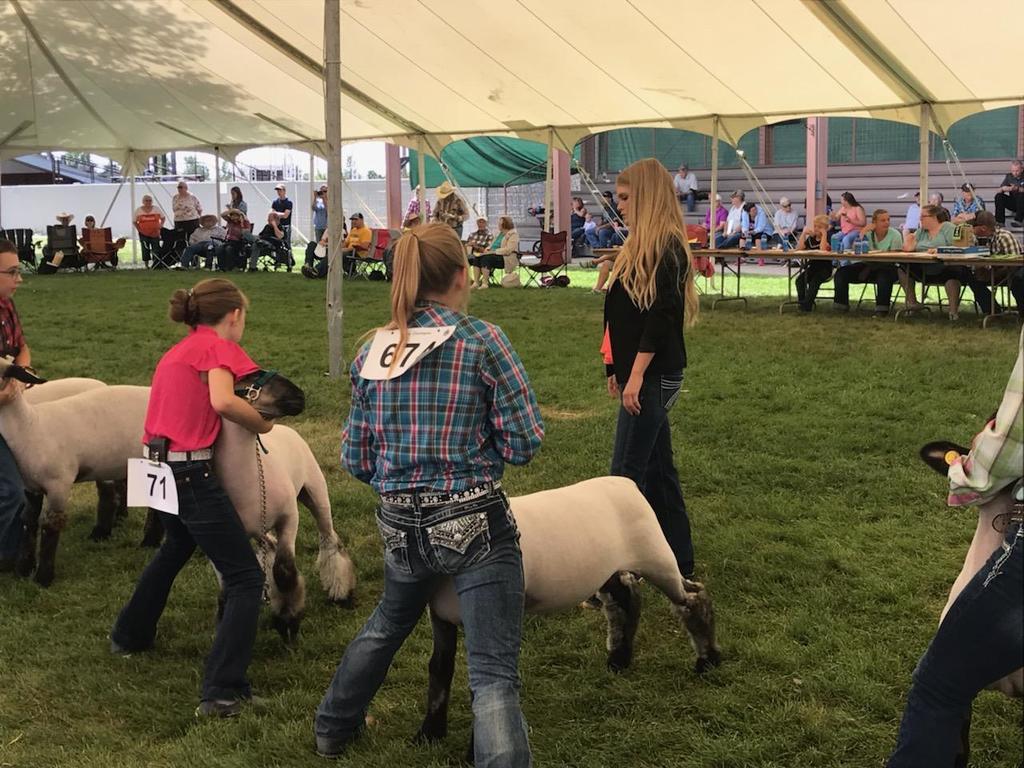 Special Meeting Notice-SRO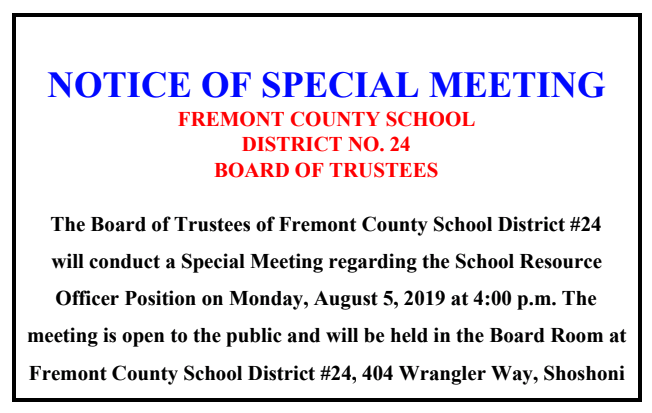 A huge Wrangler shout-out to one of our very own - Jesse Smith!! Wyoming secondary STEAM teacher of the year 2019! Such a deserving award and speaks volumes to the work he does with our students at SHOSHONI! Congrats!!

Outstanding swine showmanship today! Congratulations to ALL of the Shoshoni students that worked so hard! Made a great showing in the final drive of all age divisions! Brooklynn Schrinar Champion FFA Showmanship, Kodi Christensen Reserve. Kodi Christensen Champion Senior 4H, Conor Christensen Reserve. Brooklynn Schrinar Champion Intermediate Showman. Memphis Dolcator Champion Junior Showman and Kaylor McConnaughey Reserve Champion.

Champion meat goat showman. Chase T Shoshoni FFA Vice President. Congratulations! Make sure you come support the kids showing pigs today!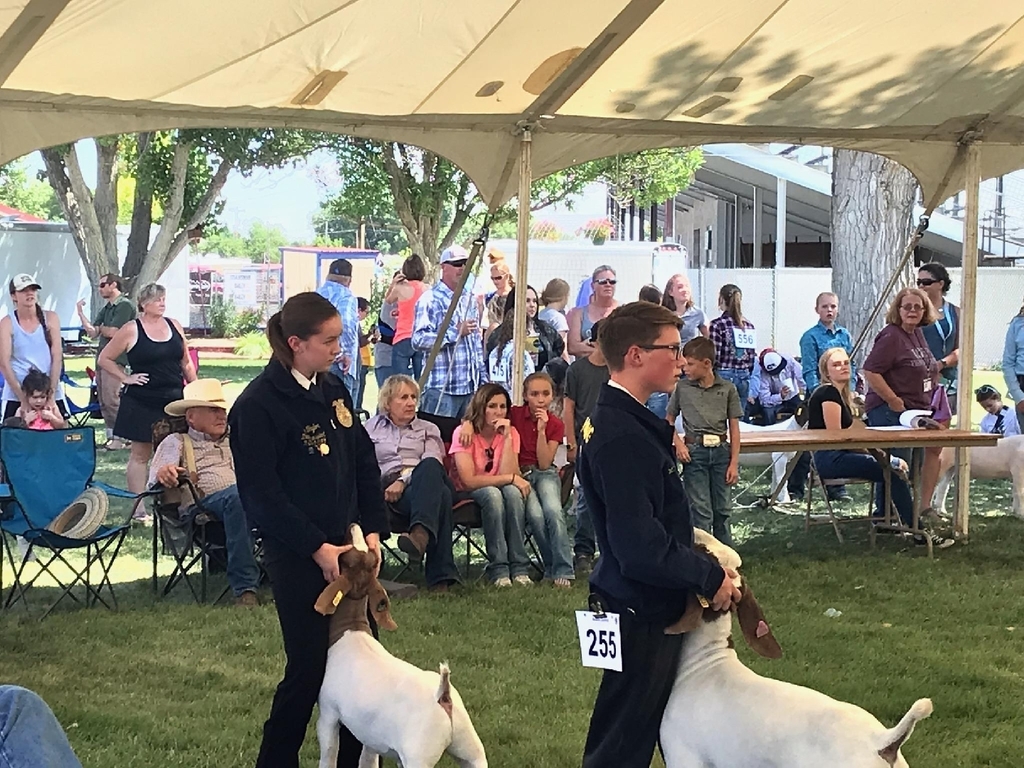 The Shoshoni FFA dairy goat showmen. Kodi was Reserve FFA Showman and Ana was reserve 4H Senior Showman. The other picture is some of the Shoshoni kids showing pigs yesterday.

FREMONT COUNTY FAIR WEEK! Message from Mr. Christensen: Hope everyone is having a great summer! The Shoshoni FFA members are gearing up for a busy week! Here is a run-down of times that we will have members showing their projects. If you have time, I know they would appreciate your support. Monday July 29th 5:30 Swine Jackpot Tuesday July 30th 9:00 Dairy Goat Show 1:00 Meat Goat Show 6:00 Market Lamb Jackpot Wednesday July 31 8:00 Swine Show Thursday Aug 1 8:00 Sheep Show 9:30 Poultry Show 6:00 Market Goat Jackpot Friday Aug 2 8:00 Beef Show 1:00 Small Animal Round Robin 3:00 Large Animal Round Robin 5:00 Swine Jackpot Saturday Aug 3 Market Sale Thanks for your support!

It's that time of year! Check out the attached flyers to support our Shoshoni Athletics!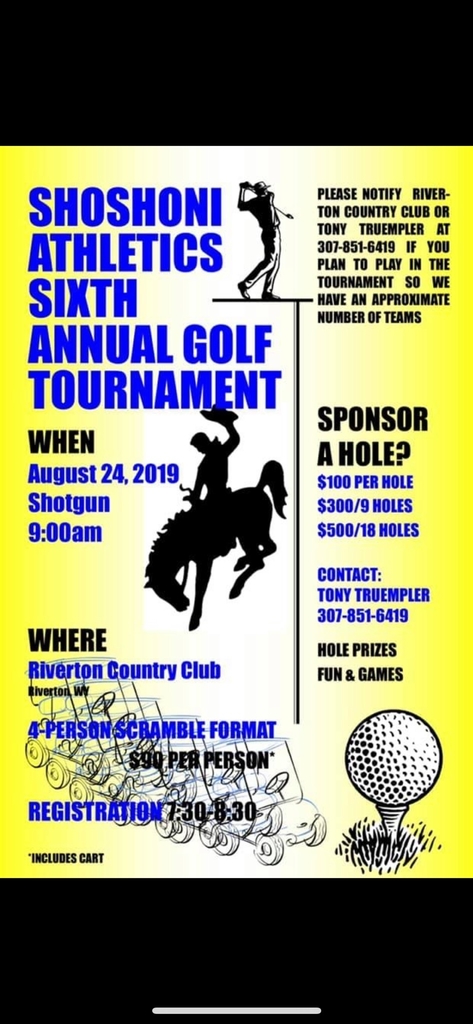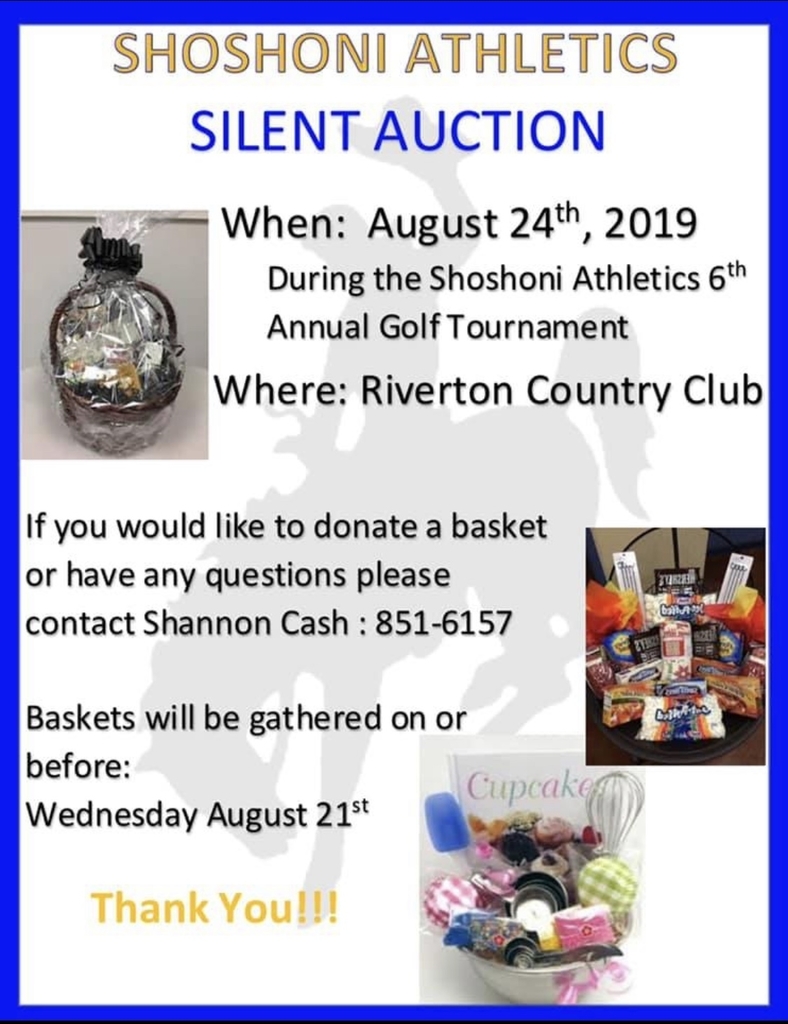 REQUEST FOR PROPOSALS SRO Fremont County School District #24 is accepting proposals for a School Resource Officer. Proposals should be marked "School Resource Officer" and returned no later than 10:00 a.m. August 2, 2019.